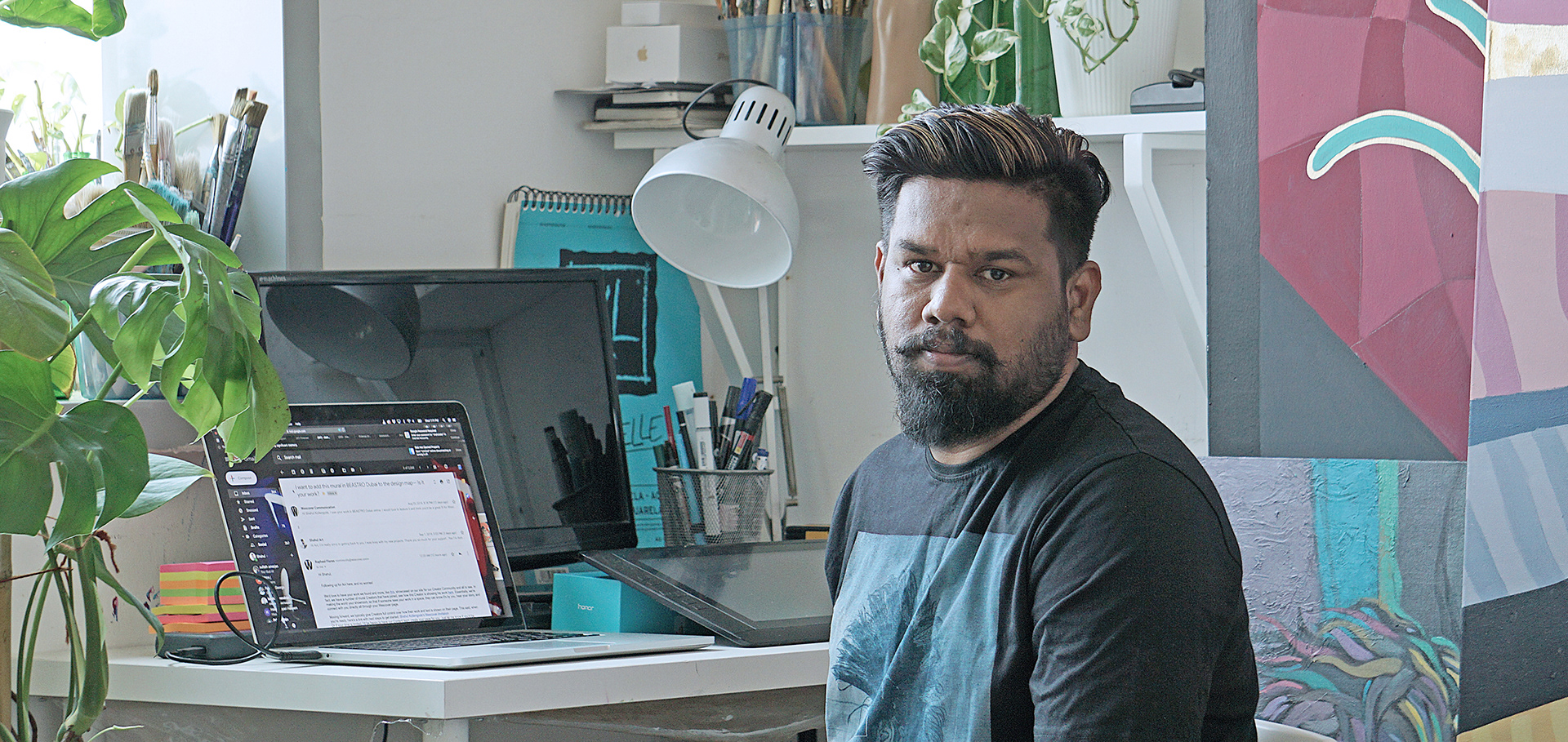 I
 hail from the beautiful town of Palakkad in Kerala. I started painting at a tender age and instantly realized that I have a passion for it.  My family is into farming and agriculture, and the idea of pursuing a profession in the field of arts was not convincing enough for them. However, as time passed, they accepted my line of work. I have not received any formal training in drawing and painting apart from a certification in Madras Government Technical Examination (MGTE). 
I commenced my career as an abstract artist and abstract still is one of my favourite styles, as I love the play of colors. Physical canvases possessed limitations of space and hence I moved over to murals, which gave me the leeway to explore the possibilities of large-format images. All my murals are over one feet high.
Like any artist, colors are a crucial part of my work and, I carefully pick and choose the colors I use in every piece. I believe colors create a dialogue between the artist that I am, and the onlooker. I derive inspiration from everyday instances and like to portray them through my visual dimension. I want to bring about a sense of familiarity and nostalgia in my audience by keeping the themes simple, but at the same time add the personal artistic touch to it. Through my art, I want to capture the emotions of a moment I witnessed or experienced, and render them to the onlooker in a way that they are also able to savour the same. 
I do not limit myself to a particular genre; I try to etch on the canvas whatever plays on my mind at that ongoing moment. Having said that, I have evolved to realize that I do have a particular liking for sketching larger-than-life figurines.  
I believe art has varied effects on the onlooker and at some level, they find a connection with what they are exposed to. For some, it may be the color palette that draws a sense of resemblance, for some other, it may be the subject itself and there are some who perceive a totally different though parallel in my paintings. On several occasions, I have had people come up to me and share a perspective about my work, which even I had not observed. It feels fulfilling to realize that my art has touched people.
Before venturing out to be a full-time artist, I worked at a firm that catered to reproducing and exporting paintings of eminent artists. This brief stint proved to be of immense advantage to me as I got to closely interact with many a noteworthy and acclaimed works of art. Artists such as Vincent van Gogh and Edgar Degas have had a strong influence that inspired me to portray the emotions of everyday life on my canvas. Their determination to pursue a style that was different to the mainstream 'realism' trend followed by the majority of European artists, amused me. Taking inspiration from these great works, I have tried to recreate my versions. 
I was commissioned by SheikhMohammed bin Rashid Al Maktou, Vice President and Prime Minister of the United Arab Emirates(UAE), and ruler of the Emirate of Dubaito feature my work at the World Art Dubai. My work – 'Awakening' which was based on the developments in the scientific and technological sector of Dubai received much appreciation. My work of a woman with closed eyelids and a robotic arm symbolizes the swift advancements in the area of artificial intelligence in Dubai. 
I was also awarded with the rare opportunity to paint a mural at the Dera Waterfront Market, an iconic place in Dubai. I competed with over a hundred artists to secure this opportunity. I was one among the eighteen artists who were shortlisted and I painted an image that combines the old traditions and the modern face of Dubai, which won me the chance to paint the same on the panels of the busy Waterfront Market. In this task that took over eight days, I had painted the graffiti of a young girl in traditional clothes looking at the world through her virtual reality lens. It represented the nation that was progressing, while being deep-rooted in their heritage. 
Though the fast-paced life of the Middle East has always been a key theme in my works, I still love to paint the memories from my beautiful village, back in Palakkad. I have conducted several exhibitions in Kerala and Bangalore.
Art is an important part of my life; it was more like a calling. After completing my schooling, it was almost a quick decision that I took to take up painting. Art brings out the best in me and it is what I am best at. 
I want to travel a lot and explore many lands. I would like to focus on murals and street art in particular, thereby opening up an arena for the locals in every region to witness the progress and completion of my art. I want to take my art to the larger community that includes commoners who are don't have access to it.